PhD in
Ph.D. in Radiological Physics
Czech Technical University in Prague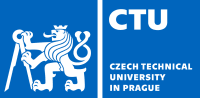 Introduction
The Doctoral Program at FNSPE CTU
The Doctoral Program in Applications of Natural Sciences and in Mathematical Engineering is open to graduates holding a Master's Degree who want to extend their scholarly qualification in a relevant field of study.
The research-oriented program provides in-depth training for a high level of professional competence in the chosen area (see below) and the ability to develop and use independently the professional knowledge and skills gained in research.
Radiological Physics
The Doctoral Program in Radiological Physics is quite unique, being the only one within the Czech Republic preparing graduates for positions in radiodiagnostics, radiotherapy, nuclear medicine, and radiobiology. The course program and topics of doctoral theses are closely related to the Master Programme in Radiological Physics, giving a more in-depth insight into special areas of radiological physics. The coursework part of the program comprises new methods in radiodiagnostics, radiotherapy and nuclear medicine, microdosimetry, radiobiology, and the use of the Monte Carlo method in radiological physics. The research part, including the doctoral examination, is completed with the submission of the dissertation.