DBA in
ONLINE Doctorate in Business Administration (DBA)
Business Science Institute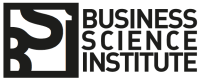 Introduction

5 reasons to do the Online Executive DBA
The Online Executive DBA is a flexible programme, with participants able to start whenever they wish
Learning resources are accessed via our Virtual Learning Environment (videos, articles, books, data analysis software, participant forums), enabling students to work remotely at their own pace.
Doctoral students and their supervisors exchange and meet online throughout the duration of the programme, receiving extra support from their academic coordinator as well as our friendly and professional administrative team.
Graduates qualify with the Certificate of Research in Business Administration and the Executive Doctorate in Business Adminstration awarded by Business Science Institute, an AMBA-accredited organisation operating under the agreement of the Ministry of Education in Luxembourg. Graduates also qualify with a Doctorate in Business Administration awarded by iaelyon School of Management - Jean Moulin University, a leading French University renowned for the quality of its Executive Education provision
Graduates are encouraged to publish their thesis in the Business Science Institute book collection.
If you are interested in the Online DBA in Sustainable Innovation Management:
The DBA in Sustainable Innovation Management is delivered jointly by ICN Business School and the Business Science Institute (BSI) Luxembourg. The Business Science Institute is an independent institution that brings together international scholars with the aim of developing doctoral-level executive education.
All information: https://en.business-science-institute.com/dba-sustainable-innovation-management/
If you are more interested in a face to face DBA program in English:
Executive DBA (English) is currently open in: Geneva, Shanghai, Hanoi, Bangkok
Do not hesitate to contact us if you have any questions: [email protected]
Curriculum
Program of the Online Executive DBA
The Online Executive DBA program is organized over a period of three/four years.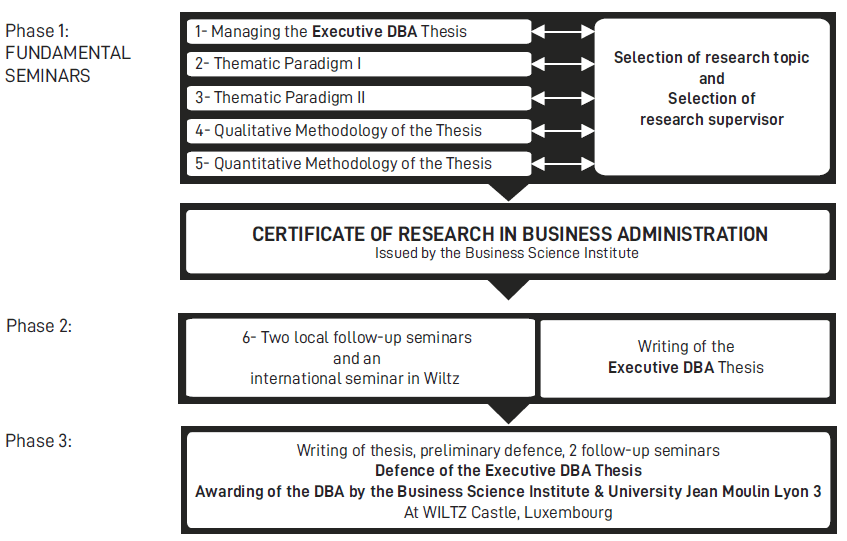 Three-phase program:
This three-phase program, which has been accredited by a renowned international scientific advisory board, consists of:
Five 3-day seminars during the first year,
Three 1-day seminars during the second year,
The 3rd year is dedicated to completing your thesis under the supervision of reputable international professors.
The first phase of the Online Executive DBA is dedicated to acquiring fundamentals to conduct research and to define the thesis subject.
The second phase of the Online Executive DBA is dedicated to data collection and writing the thesis under the supervision of one of the professors of the scientific council.
The third phase of the Online Executive DBA is dedicated to finishing writing the thesis and defending it in front of an international jury of university professors.
International Week
Each year, an international week is organized in Luxembourg (Wiltz), with a follow up on thesis, seminars, workshops and thesis defenses.
Organization
Each doctoral student will have access to:
Online resources (videos, courses, books, articles)
A list of further readings
MultiChoice Questions
An online platform on which Online students and professors can exchange
Regular meetings through video chat (Skype, Zoom, Facetime, etc.) will be planned in order to give the opportunity for students to exchange with their professors.
Scholarships and Funding
We do not offer any scholarships.
Ideal Students
MBA/Master's degree (or equivalent) & minimum 5 years of management experience