DBA in
Doctorate in Business Administration (French)
Business Science Institute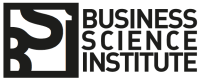 Introduction
To meet the need of PhD students who can not attend face-to-face seminars, the Business Science Institute has set up an e-learning platform enabling PhD students to take Executive DBA courses remotely.
Remote DBA program
The program of the remote DBA is divided into 5 modules:
Module 1: Conducting Research
Module 2: Thematic Paradigms I
Module 3: Thematic Paradigms II
Module 4: Qualitative Methodologies
Module 5: Quantitative Methodologies
Each module is accompanied:
streaming lessons (sequences from 20 minutes to 1 hour)
syllabus and readings
PowerPoint presentations
videos of presentations by professors and discussions with students
Testimonials from doctoral students
Sébastien Bourbon, PhD Executive DBA
Testimonials from the Executive DBA PhD students: https://www.business-science-institute.com/temoignages/
Registration details
The Executive DBA at distance is open to all managers. You must nevertheless obtain the approval of the Scientific Committee of the Executive DBA. This approval is based on your file and on a remote interview.
After the review of your profile, the scientist will issue a favorable or unfavorable opinion. It is only an opinion and not an admission decision. This first contact aims to avoid the unnecessary constitution of a registration file that has no chance of success.
To begin the registration process, please contact us.
French language
Fees: The Distance DBA program (in French) costs 23,433 €
Our next comeback for face-to-face programs are:
Which program do you want to join?Our next returns for face to face programs are:
DBA (French)
DBA Distance: https://www.business-science-institute.com/executive-dba-en-ligne/
DBA Douala (2020): https://en.business-science-institute.com/executive-dba/campuses/douala-cameroon/
DBA Abidjan (2020): https://en.business-science-institute.com/executive-dba/campuses/abidjan/
DBA Casablanca (2020): https: //en.business-science-institute.com/executive-dba/campuses/casablanca-morocco/
DBA Geneva (2020 tbc): https://www.business-science-institute.com/executive-dba/regroupement/geneve-suisse/
DBA Paris (2020 tbc): https://www.business-science-institute.com/executive-dba/regroupement/paris-france/
DBA Dakar (2020 tbc): https: //www.business-science-institute.com/executive-dba/regroupement/dakar-senegal/