Program Description
MIT Zaragoza Ph.D. Program in Logistics and Supply Chain Management
The main aim of the Ph.D. Program on Logistics and Supply Chain Management is to develop outstanding scholars who will pursue distinguished careers in research and education. Students work intensively with our faculty to create new knowledge in fields of interest such as supply chain coordination, inventory management, supply chain finance, supply chain risk management and security, and supply chain innovation.
First and second-year Ph.D. students typically complete Ph.D. level courses offered by the MIT-Zaragoza International Logistics Program, such as probability and stochastic processes, empirical methods, integer and dynamic programming, inventory management, and game theory. Second-year Ph.D. students spend a semester at MIT and have the opportunity of studying at other leading business and engineering schools. The dissertation typically requires two more years to complete. At the end of the second year, students must pass a comprehensive qualifying exam, when the student becomes a candidate for the Ph.D. and focuses on dissertation research.
The program provides students with the following:
Financial Aid
Multicultural academic and research experience in both the EU and the US
MIT SCALE Network: Multi-continent experience
A unique focused Ph.D. program on SCM
Teaching assistantships in our Masters
Faculty network with strong credentials
Official Ph.D. degree awarded by the University of Zaragoza
Certificate from MIT
Full-time dedication
This full-time program follows the highest international quality standards for doctoral studies, from the rigorous admissions process, continuous high-performance control process, to the comprehensive exam and thesis defense, enabling graduates to take faculty positions at leading universities around the world or to become innovation leaders for international companies.
Admissions
A select group of students from around the globe is chosen to join the doctoral program every 2 years. Currently, the MIT Zaragoza Ph.D. program has an international student body of doctoral students from all different continents. All Ph.D. applicants must hold an undergraduate and a graduate degree (Master level diploma) or equivalent qualifications from their home countries that qualify them for doctoral studies.
When to apply:
We anticipate that the application for the 2020-2021 academic year will open in mid-October 2019.
First Year Coursework (subject to change)
Quarter 1
Introduction to Math
Mathematical Programming
Financial Systems and SCM
Statistics and Probability Models.
Quarter 2
Empirical Methods
Econometrics
Inventory Management.
Elective ZLOG
Quarter 3
Second Year Coursework
Courses will depend on the research field of interest of the students.
Financial Aid
All admitted Ph.D. students are eligible for financial aid, in terms of fellowship to cover tuition and stipend for living expenses or funding from companies or organizations that sponsor research at ZLC or full scholarship. The program also encourages admitted Ph.D. students to search for other external financial support.
Assistantships
Assistantships are offered to cover tuition and a stipend for living expenses:
RA (Research Assistant): It may be offered when available by funded research projects, from 1st year.
TA (Teaching Assistant): 3rd year and after depending on teaching capabilities.
Candidates can also obtain grants from their countries, EU, research institutions, private companies, etc.
"Ph.D. in Logistics and Supply Chain Management" program is supported by the European Social Fund, participating in the Operational Programme 2014-2020.
Fees
International ZLC Tuition
1st year: 10,000 €
2nd year: 10,000 €*
3rd year: 6,500 €
4th year: 6,500 €
Total: 33,000 € (4 years)
*Students who successfully pass the Qualifying exam after the 2nd year will obtain a Certificate in Research in Logistics and SCM, from ZLC and MIT-Zaragoza International Logistics Program.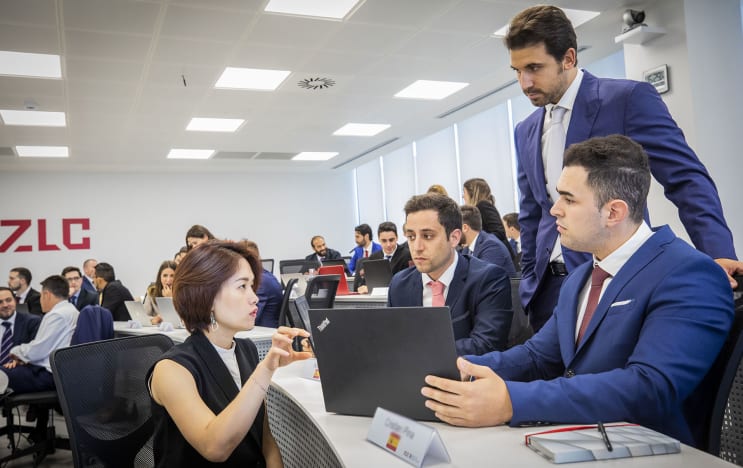 Last updated Jun 2020
About the School

Zaragoza Logistics Center (ZLC) is a research institute established by the Government of Aragon in Spain in partnership with the Massachusetts Institute of Technology and the University of Zaragoza. F ... Read More
Zaragoza Logistics Center (ZLC) is a research institute established by the Government of Aragon in Spain in partnership with the Massachusetts Institute of Technology and the University of Zaragoza. Founded in 2003, ZLC campus is located at "Dinamiza business park", designed to meet the space and work needs of companies after the EXPO Zaragoza 2008. ZLC mission is to create an international center of excellence for research and education in logistics and SCM that actively engages with industry and the public sector to develop and disseminate knowledge.
Read less