Doctor in Business Administration
Home ›
DBA ›
Doctor in Business Administration
Program Description
PROGRAM OVERVIEW
The Doctor of Business Administration (D.B.A.) program of AMA prepares forward-looking business leaders to take front-line positions in the dynamic and complex world of business.
The program involves both coursework and research and is designed for managers who need to develop an in-depth understanding of the latest thinking and technologies that are shaping the global world of contemporary business.
Graduates will be prepared to take high profile roles as corporate executives, entrepreneurs, practitioners or consultants. Class work emphasizes higher order thinking skills and critical analysis. Theory and practice are linked through learning opportunities provided by the experience of faculty members in seminars, research projects, case studies, mentoring by leaders in the business community and field-based assignments.
PROGRAM OBJECTIVES
The primary objective of the Doctor of Business Administration program is to produce graduates who can contribute to the advancement of their professions and to the expansion of knowledge and awareness of contemporary strategic business issues and practices.
Students will achieve this objective through the development of :
A thorough knowledge of scientific and scholarly research methods and their application in the business setting for senior managers, consultants, and university professors;
Advanced critical thinking, conceptual and analytical skills;
A grasp of both the seminal theories and the latest practices in business management including an intensive knowledge of theory and practice in one field of business;
The tools to perform original applied research that advances business knowledge;
An appreciation of cultural, ethical, and global issues and their impact on business theory and practices; and
The skills necessary for effective decision making in complex environments through integrating theoretic insights with practical knowledge.
Admission Requirements
FRESHMEN (NEW ENROLLEES)
Accomplished Application Form
High School Report Card (Form 138)
High School Transcript (Form 137a)
Note: This should be a school to school transaction to ensure its authenticity
Certificate of Good Moral Character
2x2 picture (for 201 files)
1x1 picture (for ID)
TRANSFEREES
Accomplished Application Form
Honorable Dismissal/ Transfer Credentials
Certificate of Good Moral Character
Temporary Transcript/ Certificate of Grades for evaluation purposes
Official Transcript of Records to be sent by the previous school with a notation: COPY FOR AMA University, Proj. 8, QC
Subject description is taken from the previous school
2x2 picture (for 201 files)
1x1 picture (for ID)
Committed to be the dominant provider of IT-based education in the global market, AMA Computer University is anchored on the Triple "G" advantage of Global Education and Training, Global Employment and Global Competitiveness.
Espousing excellence in learning, it has a broad academic program covering the College of Arts and Sciences, College of Engineering, College of Education, College of Business Administration with 24 undergraduate courses. AMACU also offers graduate work leading to the degrees of Master of Science in Computer Science, Master or Arts in Computer Education, Masters in Business Administration and Public Administration.
AMACU's world-class education and training is recognized and accredited by global partners and affiliates. Fully equipped with facilities and programs that go far beyond the needs of individuals, it has an outstanding pool of faculty which seeks to offer the means for each individual to attain self – actualization to the fullest. As a consequence, AMACU has produced more than its share of leaders in business, in education, in industry, and in government.
Last updated Jan 2018
About the School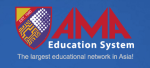 AMA Education System (AMAES) is the largest educational network in Asia and a member of the AMA Group of Companies.
AMA Education System (AMAES) is the largest educational network in Asia and a member of the AMA Group of Companies.
Read less